GAMLEC – Gaming for Mutual Learning in Elder Care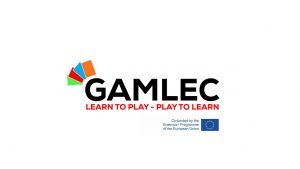 The GAMLEC game, developed under our leadership as part of the European Erasmus+ education programme, is now available free of charge.
If you who want to start playing right away, go directly to the free download page.
The game can be downloaded free of charge in five languages.
What It's All About
Professional nursing staff, trainees, volunteers and relatives learn in a playful way what more they can do to improve the quality of life of care home residents. Autonomy, participation and human dignity were scientifically researched by a European partnership of 5 countries: Germany, Italy, the Netherlands and Lithuania. This research is summarised in the European Compendium on Quality of Life, the starting point of GAMLEC learning game.
Aims of the Game
The game stimulates reflection and invites players to rethink and revise their own ideas and beliefs.  It also encourages reflection on what quality of life means for each individual. There are more similarities between the quality of life of older and younger people than one might expect at first glance. Learning through play is sustainable, effective and fun. The game is also an excellent tool for in-house training.
The Playing Cards
The cards describe real-life situations from everyday life in care homes. They either describe situations that contribute to residents' quality of life or are detrimental to it. In addition to the positive and negative cards, there are the 'Good Fairy' cards, showing criteria that could be perceived as wishful thinking due to the scarcity of resources, and the 'Bad Fairy' cards, openly addressing taboos. If players draw a card that is beneficial to the quality of life, they may move forward. But if they end up with a negative card, they have to go back, stay put for a round and reflect. Alternatively, they pick up a new card and carry on playing.
Our Experience with the Game
Our experience with the game has made it clear that the playful examination of good and bad practices encourages reflection and the sharing of experiences. What have we already implemented as good practices and what can we do better? Players have felt that the daily nursing routine was presented realistically and reflected the work of the nursing staff. This is important to give the general public an insight into this profession and to ensure that this profession is appreciated on a social and political level. At the same time, the game shows ways in which volunteers and family members can make a tangible and meaningful contribution.
Free Download
The game can be downloaded free of charge in five languages here.  You will also find instructions on how to design your own game cards.
The variant with a Game Coach offers the opportunity to use the game for team-building.
Are you interested in game-based learning and would like further information? Would you like to create your own game, or do you want us to create one for your specific purposes and needs?
In this case, feel free to contact us at info@ip-international.biz.
We are experienced in creating learning games for different sectors, target groups and purposes.
The European Commission's support for the production of this publication does not constitute an endorsement of the contents which reflect the views only of the authors, and the Commission cannot be held responsible for any use which may be made of the information contained therein.