A Company Is Only as Good as the Skills of its People
We would like to assist you to a successful outcome and help you increase your capabilities, every single day. The decisive question is: "What can I do better today, as an individual, and what can we do better today, as an organization in order to expedite our common goal?"
We support you with tailor-made, implementation-oriented training for your managers and employees so that they may share their knowledge and skills inside the organization, where and how it is needed. Methods we employ include the following: classroom training, webinars, blended learning, and game-based learning for adults. In addition, our trainers are also available for you internationally and in numerous languages.
We offer a wide range of methodologies and training content tailored to your specific needs. We also work in collaboration with your SME to construct specific training programs.
Perhaps you could reach your goals on your own, but we can help you achieve those goals faster and easier through a new exciting approach that will enhance the capabilities of your managers and employees. Coaching is very different from training. It helps the Coachee to change perspective and discover hidden resources and treasures they already possess. Our coaches are there for you, so that even in difficult situations, you will be able to manage your tasks and reach your goals.
Coaching is not just for managers. Coaching helps anyone who wants to be in the lead.
We are also available for you internationally, online and in numerous languages.
Our consulting is flexible, agile and customer-oriented.
A lean and agile organizational structure with a proactive workforce, working in consort in strong teams and with enthusiasm for the common goal, will propel you to the top of your competition.
We help you break old patterns and develop a culture of creative thinking and knowledge sharing, of continuous learning and continuous improvement. We help you empower your employees, and untap their hidden potential to create new ideas and suggestions for continuous improvement.
Together we can help make your company more productive and improve the work satisfaction and competence of your employees.
Overview Training Courses
All

Targetet Short-Term Training Courses

Training Courses
Targeted Short-Term Training Courses
Quick to Learn, Easy to Apply
Our work lives and private lives are constantly increasing in complexity. We provide short courses to teach you essential skills in a nutshell. We all want to improve our work methods and personal life skills, but have difficulty finding the time to learn these skills. At the same time, it is not possible and not even necessary to become an expert on any given topic. Often it is enough to obtain just the essential knowledge and skills to improve all over performance.
Reducing complexity removes barriers to getting things done. We created our targeted short-term training courses to offer busy people the opportunity to acquire specific knowledge and skills in a very short time.
All courses are practise-oriented and offer tools that are easy to apply.
Our Areas of Expertise
An Overview of Our Services
LearnInProgress®
Fast, Easy, Effective
LearnInProgress® was developed at the University of Bologna with the aim of helping adults to recognize and build on their individual skills according to their learning preferences and work styles.
Behavioural science has demonstrated that inner resistance and blockages can be avoided when learners focus on their strengths and abilities instead of on their gaps and deficiencies. The latter causes frustration, as well as inner resistance to learning, and therefore costs time and energy that could be used more effectively.
Our approach takes stock of the knowledge, the skills and the abilities that the individual already possesses. LearnInProgress® makes self-improvement easy and fun. Self-improvement includes personal development as well as goal setting, time management, organizational skills, leadership skills, as well as skills necessary to reach individual and organizational goals.
In today's fast-paced and complex world, it is important to avoid information overload, which is a waste of time and energy.
Learning should be efficient, effective; pleasant and easy. Learning programs should always focus on the individual's strengths and provide only what is needed.
LearnInProgress® helps your employees discover their strengths, work styles, and winning strategies. Their "Personal Inner Team", metaphorically speaking, consists of four "members", each of which embodies a unique style. To create a successful team, it is essential to recognize and develop each of its members´ individual strengths to the fullest, according to a specific goal in a particular context and situation.
Our mission is to make these strategies easy and enjoyable to learn.
In our training and coaching programs, we have two vehicles for you to choose from to help you discover your individual strengths, learning preferences, and work styles: an online card game, or a traditional card deck. We will be pleased to advise you which one would work best in your particular situation.
Please contact us at info@ip-international.biz.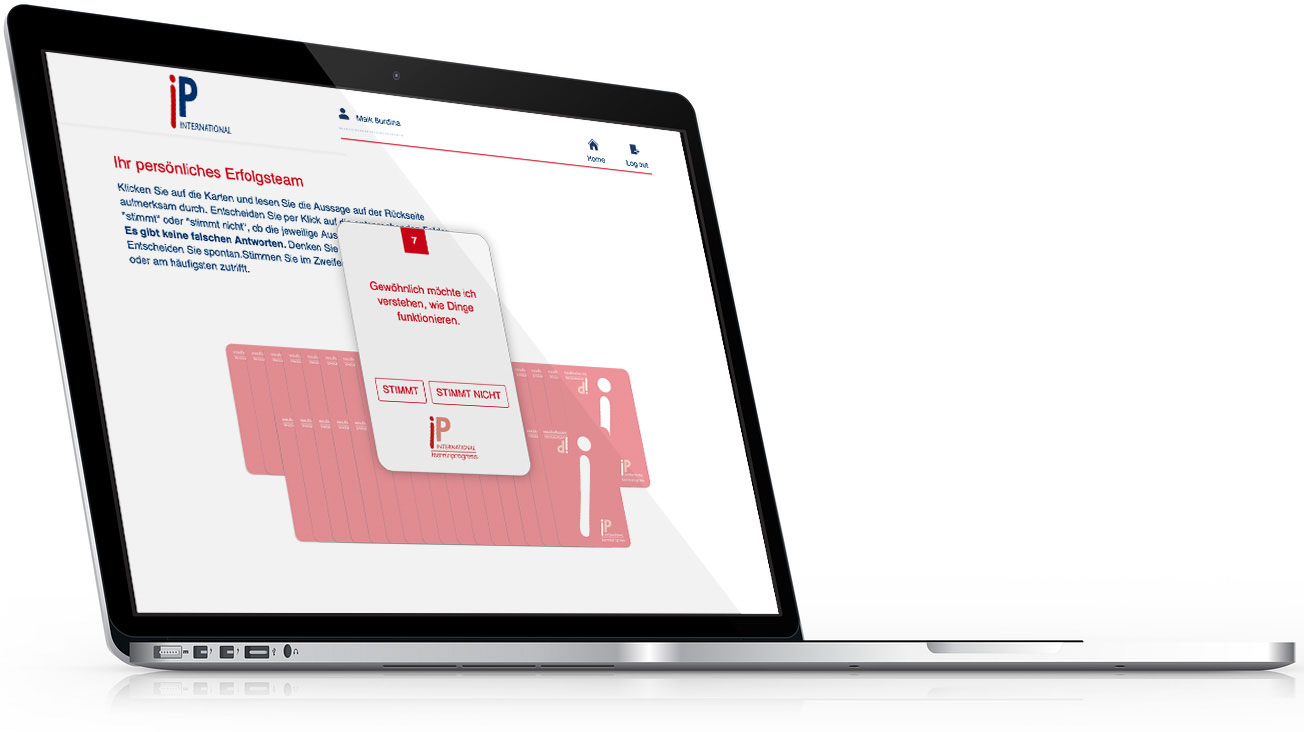 Discover your personal strengths, work styles and learning preferences online through an entertaining game, whenever and wherever it best suits you.
Discover your LearnInProgress® "Personal Inner Team" and its four members in just a few clicks. Contact us for your personal access code and an individual coaching session.
LearnInProgress® Card Deck
The physical card deck is particularly suited for classroom training and experiential learning settings. In our experience, it enhances team building and team development activities. The moment your employees become aware that there are four different learning styles and that each individual has greater strengths in particular areas, they can start to understand and appreciate the individual differences of their team mates. A variety of work styles bring a variety of strategies to reach the groups goals. This enhances flexibility and enables quicker reactions to changes as they occur. As well, it increases the cohesiveness of your employees within their team and their willingness to collaborate with each other. Great teams are created by honouring the contributions of every single individual and their different approaches.
Please do not hesitate to contact us for further information.